Training and growth in specialist areas

Support with professional development

Modern fleets and diverse locations

Trust and empowerment to make calls

A large company with a small-team feel

Upper management you can talk to

A family friendly environment

Focus on wellbeing, health and safety

Career enhancement opportunities
Join Booth's
or be an owner driver
If you're interested in joining us, we'd love to hear from you.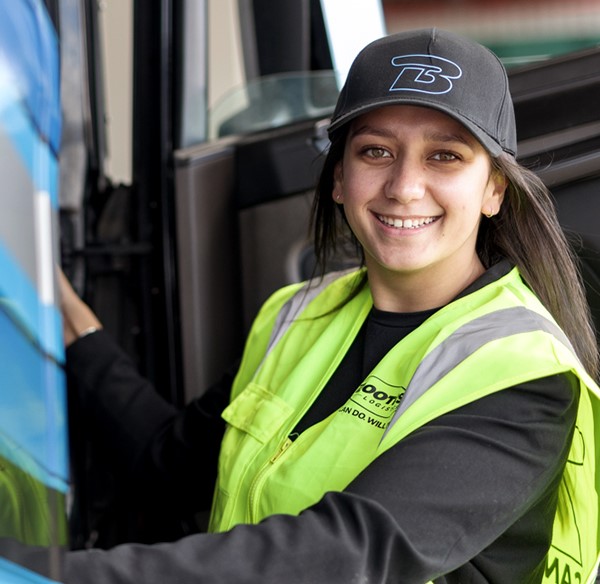 We're always looking for people to join our team. Here are our current vacancies, but if you have something special to offer whether it's experience or attitude, we'd love to hear from you. Some of the best roles aren't filled; they're made.
Hear it firsthand
"It's the kind of place for someone with ambition, who wants to improve their career. We're growing at a massive rate, so there's always opportunities to go into bigger roles. Craig and Trevor seem to have no intention of stopping any time soon."
Stephen Smith
Booths's FTL Manager
Hear it firsthand
"These guys have a lot of care and are more family oriented. If you have sick kids, you just let them know. There's no 'no's' unless there really needs to be.
Hannah Mauchline
Booth's Driver
Hear it firsthand
"We've got a real family mentality; we all look out for each other. It's like working with a lot of your mates. Work can be serious, but there's plenty of laughter at the same time. Whilst it's a big company, it's still on the level of a team."
Stephen Smith
Booth's FTL Planner
SUPPORT OFFICE
2 – 12 Makomako Road
Palmerston North 4414
Tell us what you're looking for and we'll get back to you with how we can help.
Reach out with any enquiries, questions or feedback, we're always happy to hear.