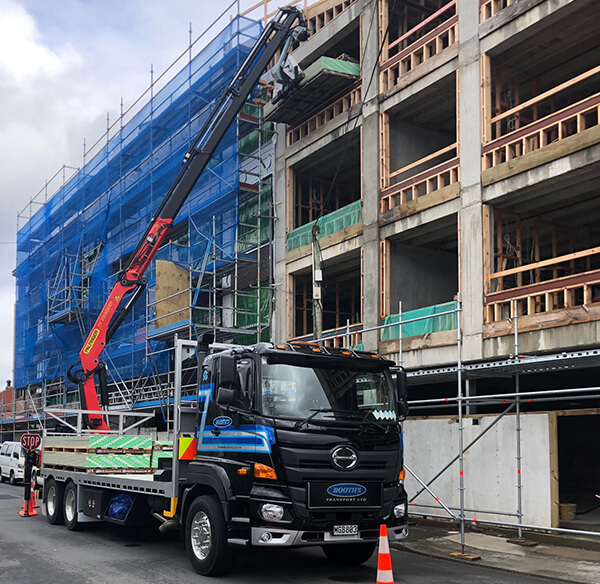 Booth's can provide HIAB and specialist delivery services in Tauranga and Wellington, and other areas by arrangement.
HIAB suits oversized goods that cannot be loaded or unloaded by hand or forklift. More flexibility than an onsite crane, you can complete pick-ups and deliveries to multiple sites on the same day. Our trained operators specialise in transporting various construction materials, portacoms, generators and difficult freight, with precision and care.

Experienced and safe operators.

Late-model and reliable gear.

Adhoc or regular services available.

ERoad depot services for full truck visibility and safety.

Up to 17m reach capacity.

Distribution and dispatch of large sizes such as construction products.
A family-owned freight and logistics company, we have the resources to flex with your needs and the nationwide reach to be where you need.
Hear it firsthand
"I always try to find a way, and more often than not, create a way to make things happen. No matter how steep the mountain is to climb, we always make it one step at a time. We know what good should look like." 
Henry Seymour
Booth's National Business Development Manager
Hear it firsthand
"Booth's ability to upscale at short notice for increased demand, whether that be through natural disaster or seasonal changes, is first class." 
Tony Vesper
NZ Drinks Ltd
Hear it firsthand
"We find ways around obstacles, not ways to walk into them. Something we've got to go around, as opposed to being stuck behind.
Stephen Smith
Booth's FTL Manager
SUPPORT OFFICE
2 – 12 Makomako Road
Palmerston North 4414
Tell us what you're looking for and we'll get back to you with how we can help.
Reach out with any enquiries, questions or feedback, we're always happy to hear.