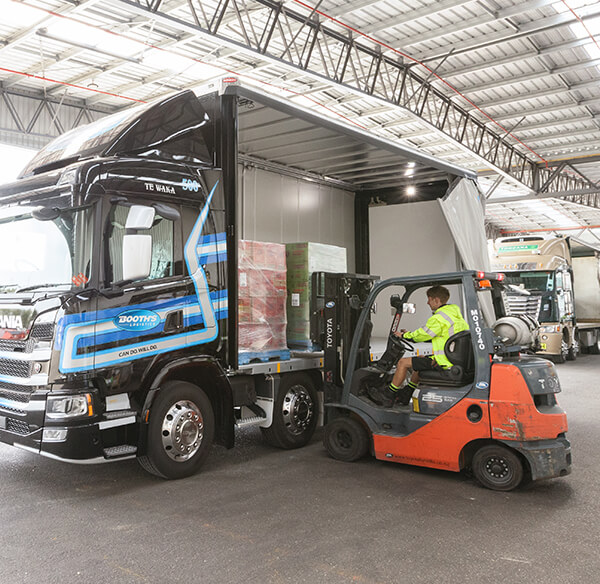 Container packing/
unpacking and import/export services
Our team is here to load and unload your precious cargo. From pallets and packages, bulk bags and drums, through to specialised project cargo.
Covering dispatch, distribution and door-to-door services, you can trust the Booth's Logistics team to handle, package and move items with care. Ask for our expert hand devanners and machine devanning container and devanning service.

RMP and ATF facility for import devanning and export goods.

Foodstuffs, ingredients, packaging, timber, steel and bulk products handled in a safe and efficient manner.

Steel and other construction materials capability.

Export packing available, under RMP and E-Cert documentation where required.

BRC Quality Certification in selected warehouses.

MAO certification for primary produce.

Hazardous substance handling available for several classes of goods.

Crossdock or warehouse storage options available.

MPI, RMP and ATF approved sites.
A family-owned freight and logistics company, we have the resources to flex with your needs and the nationwide reach to be where you need.
Hear it firsthand
"Booth's ability to upscale at short notice for increased demand, whether that be through natural disaster or seasonal changes, is first class." 
Tony Vesper
NZ Drinks Ltd
Hear it firsthand
"We find ways around obstacles, not ways to walk into them. Something we've got to go around, as opposed to being stuck behind.
Stephen Smith
Booth's FTL Manager
SUPPORT OFFICE
2 – 12 Makomako Road
Palmerston North 4414
Tell us what you're looking for and we'll get back to you with how we can help.
Reach out with any enquiries, questions or feedback, we're always happy to hear.