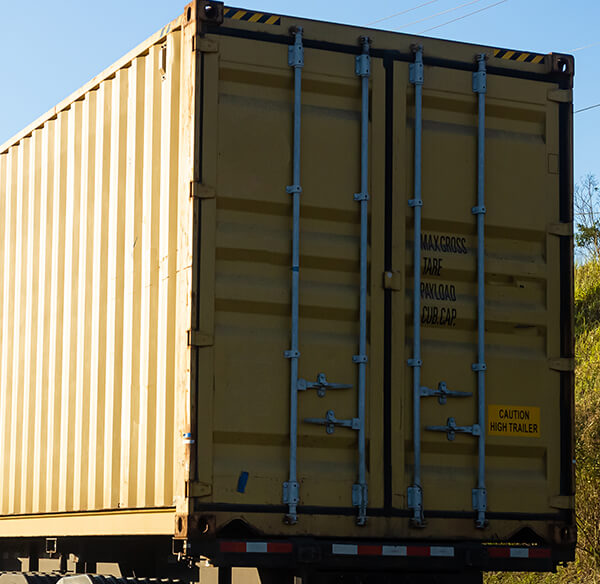 Options for all container cargo
Our container handling fleet includes swinglifts, skeletal trailers, top mount forklifts, straddle carriers, combilifts and generators.
Our services include container packing and export loading, container shipping and temperature-controlled container specialists. The typical product mix is import/export containers, produce cartage and handling, packaging and other assorted products. Our facilities are MPI, RMP and ATF approved sites.

Low tare weight trucks and trailers for the cartage of heavy containers.

Modern multi axle trailers with electronic stability systems to meet the current rules.

We can transport 34T export/import containers under HPMV rules on selected routes resulting in less trips.

Underslung and deck mounted generators for containers that require active refrigeration.

Leg over swing lifts for safe and efficient trans-shipping of heavy containers – minimising time on customer site.

Coordination of dispatch, distribution and door-to-door service booking times at ports.

Low height trailers for over dimensional containers.


MPI listing for dairy and meat products.

Cleaning and maintenance programmes for MPI.

FCL services for FMCG to HSNO.

NZ cargo tracking, ecommerce fulfillment and Eroad depot for full visibility of inventory.
A family-owned freight and logistics company, we have the resources to flex with your needs and the nationwide reach to be where you need.
Hear it firsthand
"I believe in standing up in the face of bureaucracy and keep giving it a crack. We work very hard to not be a corporate, but give our people structure and direction that they can grow in."
Dallas Vince
Booth's CEO
Hear it firsthand
"Booth's ability to upscale at short notice for increased demand, whether that be through natural disaster or seasonal changes, is first class." 
Tony Vesper
NZ Drinks Ltd
SUPPORT OFFICE
2 – 12 Makomako Road
Palmerston North 4414
Tell us what you're looking for and we'll get back to you with how we can help.
Reach out with any enquiries, questions or feedback, we're always happy to hear.