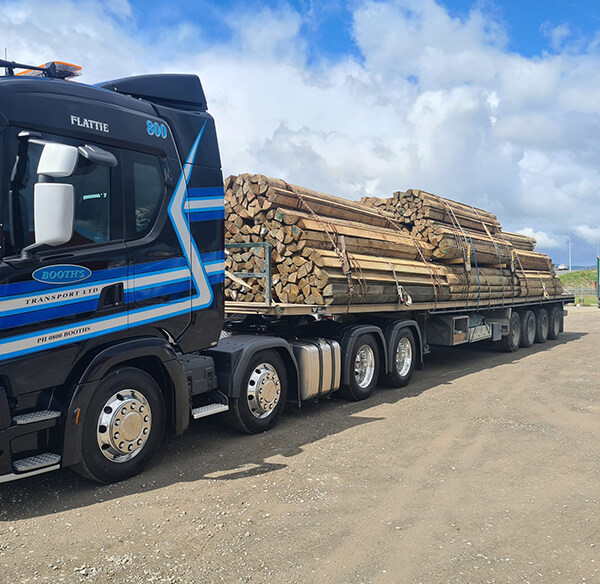 A specialist division with a dedicated focus
Flat deck services are available nationwide and small or large loads can be handled. We have the capability to load and unload your goods using a crane or forklift, whether it's a cabin, a load of steel or apple bins.
We have a range of transport options for freight up to 29 metres in length and 28-tonne payloads. We cover all your dispatch and distribution needs, from door-to-door service to interisland freight services.

Lightweight flat deck trailers – 14m and 15.7m.

Extendable trombone – 15.1 to 23m and can transport up to 29m in length.


Standard lengths up to 18m without pilot.

Trombone lengths up to 20m without pilot.

Over-dimension and piloting of loads, both width and length.

Experienced with applying the legal load restraint, without damaging the product.

Unloading of steel from import containers.

HPMV for heavier goods such as construction products or generators.


Full bins of fruit from orchards to packhouse.

Packing from store to packhouse.

Export fruit from packhouse to port.

Flatdeck 7 day per week service.

Eroad depot for full visibility of goods.
A family-owned freight and logistics company, we have the resources to flex with your needs and the nationwide reach to be where you need.
Hear it firsthand
"Their values are aligned with ours, it's an honest partnership. They're willing to work together to solve any issues. Booth's offer wrap-around support and there is a genuine feeling that they actually care."
Rebecca Fergus
Iplex Pipelines
Hear it firsthand
"Their ability to flex and put on extra units to meet our fluctuating demand is their core strength where they're very good. If we're looking for extra loads to move, Booth's will be the first company that we call."
SUPPORT OFFICE
2 – 12 Makomako Road
Palmerston North 4414
Tell us what you're looking for and we'll get back to you with how we can help.
Reach out with any enquiries, questions or feedback, we're always happy to hear.